2017 Symposium & Luncheon
Community Champions for Children Symposium & Luncheon
Building Resiliency in Young Children
​
​Hofstra University Club
Hempstead, NY
Thursday, April 27, 2017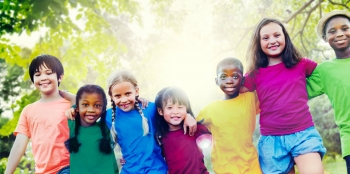 Schedule of Events
Symposium Registration, Networking & Continental Breakfast: 8:00 - 9:00 am
Symposium Panel Presentation, Q&A: 9:00 - 11:00 am
Luncheon Registration, Networking & Raffle Sales: 11:00 - 12:00 pm
45th Anniversary Luncheon, Honoree Recognition & Keynote Address: 12:00 - 2:00 pm
Symposium Description
The morning Symposium will begin with Child Care Council of Nassau staff presenting on NASSAU THRIVES, a Superstorm Sandy Block Grant funded program that offers assistance to early care and education programs impacted by Superstorm Sandy at no cost. The presentation will focus on the implementation of the Early Childhood Consultation Partnership (ECCP) across Nassau County. ECCP allows child care providers to choose from a range of services that assist them in developing strategies for working with children with social emotional concerns, challenging behaviors, supporting families, supporting staff and enriching the overall social emotional environment for children.
The presentation will be followed by a panel discussion with mental health professionals who led their organization in responding to the social emotional needs of children, families and child care providers in the wake of Superstorm Sandy. The panel will be moderated by Elizabeth Isakson, MD, FAAP, Executive Director of Docs for Tots, Child Care Council of Nassau's collaborating partner in NASSAU THRIVES. The panel will feature Lesley Koplow, LCSW, Director of Emotionally Responsive Practice at Bank Street, Gerard Costa, Ph.D., Director of the Center for Autism and Early Childhood Mental Health at Montclair State University, and Pamela Potischman, LCSW, Director of the Sandy Child Care Project at the Child Development Center of the Jewish Board of Family and Children's Services.
Honoree Recognition
Victor Fornari, MD is the Director of the Division of Child & Adolescent Psychiatry in the Department of Psychiatry, The Zucker Hillside Hospital & The Cohen Children's Medical Center of Northwell Health. Dr. Fornari is Professor of Psychiatry & Pediatrics at the Hofstra Northwell School of Medicine.
Saundra M. Gumerove, Esq. as a parent and advocate for the disabled, Ms. Gumerove's law practice is focused on representing individuals, families and parents and children in need of special education services, guardianships, life planning and estate planning, including special needs trusts.
Yesenia Vasquez is the Chief Financial Officer of Laser Now and co-owner of three laser treatment locations in Manhattan, Queens and East Meadow. Yesenia was one of the Top 25 Advocates for Latino Empowerment benefiting the Hispanic Counseling Center in 2012. She was named Business Woman of the Year in 2014 by the Long Island Hispanic Chamber of Commerce.
Keynote Speaker
Kimberly Noble, MD, PhD is an Associate Professor of Neuroscience and Education from Teachers College at Columbia University. The goal of Dr. Noble's research is to better characterize socioeconomic disparities in children's cognition and brain development.
Register here or email Ann Schindler for more information at: aschindler@childcarenassau.org