Farm to Preschool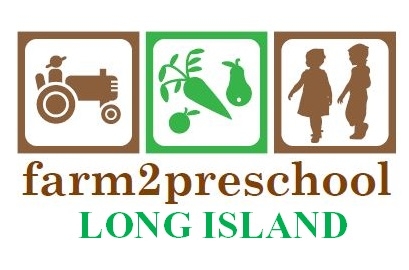 Long Island Farm to Preschool is gearing up for its fourth season! We have been busy planting gardens and there are lots of little sprouts coming up. We are welcoming a new center this year, Kiddie Academy of Brightwaters in Bay Shore. Their new garden is planted and the Pre K students have had a great time exploring and cooking new vegetables the past few months.
Our Farm to Preschool farm stands will start up again on June 19th and run through the end of September. All of our farm stands are open to the public, and we invite everyone to take advantage of the many benefits that local produce has to offer. Bring the whole family out to taste our recipe, pick up a copy of our weekly newsletter, shop and explore new fruits and vegetables. It's a great way to get kids interested in trying new foods as well as understanding where their food comes from. We also invite child care home and center providers to take a field trip to one of our farm stands. If you let us know ahead of time we can even plan an activity to do with the children when you arrive.
Contact Dana Youkilis, our Farm to Preschool manager, at 516-358-9250 ext 38 or dyoukilis@childcarenassau.org for more information. Please like our Facebook page and follow us on Twitter @LIFarm2Pre for all the latest news and updates. We are always open to new ideas and connections and would love to hear about your experience with farm to school.
Our 2017 Farm Stands will be as follows:
Children's Nest Farm Stand
2350 Merrick Ave
Merrick, NY 11566
Mondays 3:30pm - 6:30pm
6/19/17—9/25/17
Anna House Farm Stand
2150 Hempstead Turnpike
(Inside Belmont Park Race Track Gate 6)
Elmont, NY 11003
Tuesdays, 10:00am – 1:00pm
6/20/17 – 9/26/17
Kiddie Academy Farm Stand
225 Howells Rd
Bay Shore, NY 11706
Wednesdays, 3:30pm – 6:30pm
6/21/17 – 9/27/17
Marks of Excellence Farm Stand
455 Albany Ave
Amityville, NY 11701
Thursdays, 3:00pm – 6:00pm
6/22/17 – 9/28/17
---
Recipes from the 2017 Farm to Preschool Season!
Rita's Pickled Radishes- Week of June 19th
Red Pepper & White Bean Salad- Week of June 26th
Glazed Beets and Greens- Week of July 3rd
Leafy Greens Salad with Apple Dressing- Week of July 10th
Braised Carrots and Tomatoes- Week of July 17th
Succotash Salad- Week of July 24th
Zucchini Spaghetti- Week of July 31st
Blueberry Thyme Salad- Week of August 7th
Cucumber Dip with Pita Chips- Week of August 14th
Lettuce and Chickpea Salad- Week of August 21st
Stewed Cabbage- Week of August 28th
Strawberry Pepper Salsa- Week of September 4th
Butternut Squash with Collard Greens- Week of September 11th
Potato Corn Soup- Week of September 18th
Sweet Potato & Apple Stir-Fry- Week of September 25th
---
Check out healthy recipes to try at home
from the 2016 Farm to Preschool Season!
Greek Salad - Week of June 27th
Citrus Splashed Beets - Week of July 4th
Summer Squash and White Bean Salad - Week of July 11th
Peach Compote - Week of July 18th
Radish Stir-Fry - Week of July 25th
Carrot Confetti Salad - Week of August 1st
Fresh Corn Polenta - Week of August 8th
Plum Cucumber Salad - Week of August 15th
Okra and Tomatoes - Week of August 22nd
Black Bean Dip - Week of August 29th
Raw Corn Salad - Week of September 5th
Smashed Potatoes with Kale- Week of September 12th
Applesauce- Week of September 19th
Sweet Potato and Red Bean Chili- Week of September 26th
---
Long Island Farm to Preschool's mission is to increase access to fresh fruits and vegetables for parents/caregivers, staff, and the surrounding communities of child care centers on Long Island. Long Island Farm to Preschool is part of the SNAP-Ed funded childhood obesity prevention initiative Eat Well Play Hard in Child Care Centers and is administered by the NYS Department of Health, Child and Adult Care Food Program.
Visit our newsroom to access Long Island Farm to Preschool's weekly newsletters.
---
Farm to Preschool Season 3 Photos
Click to enlarge any of the photos below