Farm to Preschool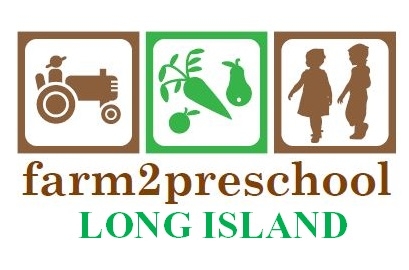 We would like to give thanks to everyone who came out this season to support the Long Island Farm to Preschool program. It would not have been a success without the support of our participating child care centers Anna House in Elmont, Children's Nest in Merrick, YALE in Hempstead, and Marks of Excellence in Amityville, as well as all of the surrounding communities.
This season we were able to provide tastes and copies of 14 different recipes, distribute over 1,000 kitchen tools, and offer over $700 in free produce to center parents. We also helped our farmer earn over $20,000, keeping our dollars local and strengthening small farms.

Please keep in touch with us over the winter at our Facebook page for all the latest news and updates. We are always open to new ideas and connections and would love to hear about your experience with farm to school. Stay tuned for our spring garden replanting and the return of our farm stands around the end of June 2017.

Please direct any questions or inquiries to our Long Island Farm to Preschool manager Dana Youkilis at dyoukilis@childcarenassau.org or 516-358-9250 ext 38.
Wishing everyone a wonderful warm and cozy winter!
---
Long Island Farm to Preschool's mission is to increase access to fresh fruits and vegetables for parents/caregivers, staff, and the surrounding communities of child care centers on Long Island. Long Island Farm to Preschool is part of the SNAP-Ed funded childhood obesity prevention initiative Eat Well Play Hard in Child Care Centers and is administered by the NYS Department of Health, Child and Adult Care Food Program.
---
Check out healthy recipes to try at home!
Greek Salad - Week of June 27th
Citrus Splashed Beets - Week of July 4th
Summer Squash and White Bean Salad - Week of July 11th
Peach Compote - Week of July 18th
Radish Stir-Fry - Week of July 25th
Carrot Confetti Salad - Week of August 1st
Fresh Corn Polenta - Week of August 8th
Plum Cucumber Salad - Week of August 15th
Okra and Tomatoes - Week of August 22nd
Black Bean Dip - Week of August 29th
Raw Corn Salad - Week of September 5th
Smashed Potatoes with Kale- Week of September 12th
Applesauce- Week of September 19th
Sweet Potato and Red Bean Chili- Week of September 26th
---
Visit our newsroom to access Long Island Farm to Preschool's weekly newsletters.
---
Farm to Preschool Season 3 Photos
Click to enlarge any of the photos below